BSL sign language courses

Signamic is London's leading Professional company specialised in training people in BSL.
They provide interpreting training and an interpreting service, Signamic have a proven success rate of students passing BSL exams. There are workshops which students have an opportunity to produce evidence for NVQ.

• Level 1 – 3 Course available throughout the year
• Workshops to help produce evidence
• Level 4 Interpreting Training
• Room Hire
• Deaf Awareness training can be booked through Signamic
• Email: enquires@signamic.co.uk
• Tel/Voice:0207 231 6990
• Fax: 0207 231 6990

Signamic has a team of deaf trainers with many years of experience and deliver a high standard of tuition to deaf and hearing students.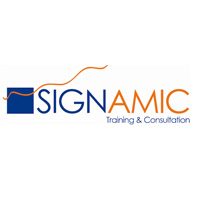 Address:
Unit 34 ,
Lower Road ,
Canda Water ,
SE16 2XB
Map: View Online Map
Tel: 0207 231 6990